The Navy Prototype Optical Interferometer
"Starlight Path"
by
John Huggins


Feedbeams connecting the telescope to the optics lab.
The feedbeam tubes relay the light from the siderostat building on the right to the optical laboratory on the left.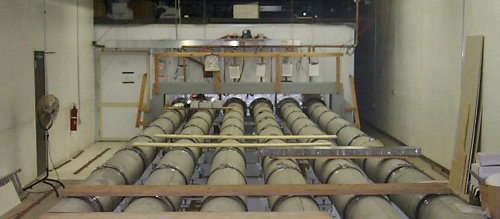 Fast Delay Lines (6)
Once inside the lab, the light passes into these long and wide tubes called Fast Delay Lines. They have a little robot cart which can travel the distance of the tube. This cart has a mirror at one end. The job of the cart and the delay line tube is to adjust the total distance the light travels from each siderostat to the light sensors.


Fast Delay Line Cart
The ultimate goal is to bring starlight from all active siderostats together at the same time. Put another way, the distance traveled from a star through our atmosphere, bouncing off the siderostat mirror, through the feed beams, through the delay lines to the light sensors should be equal for each siderostat.
After this long journey, the light ends up on this optical table where beam combining occurs.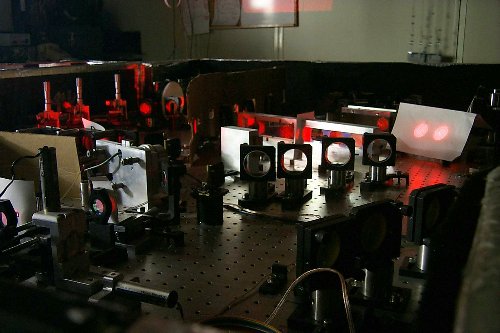 Optical Beam Combiner
It is here where the light is combined, directed to optical fibers and sent to the electronics room for processing.
[Beginning] - [Next Page - Combine the light]