The Navy Prototype Optical Interferometer
"Combine the light"
by
John Huggins
NPOI, Page 3
Optical fibers on the beam combiner table guide the combined starlight to the electronics room. From there the light travels to photodiode detectors and associated electronics.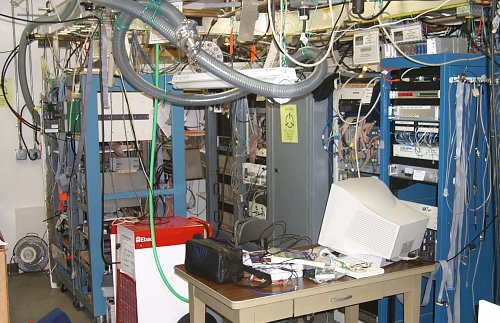 Electronics Lab
The scope of control necessary to make something like an Optical Interferometer work is immense. If any one aspect is to take credit for the possibility of this instrument, it would be the advances in the electronics industry. The instrument must process data fast enough to track air disturbances and correct them. Also, this instrument generates many megabytes of data each second. Data storage technology for such throughput is difficult.
We will go into more detail of each system of the Optical Interferometer in upcoming issues.
Here are some resources to visit:
The official web page of the NPOI is here.
The NPOI is located at Anderson Mesa near Flagstaff, Arizona. It is operated in partnership with Lowell Observatory which maintains this page about the mesa. http://www.lowell.edu/facilities/mesa/
---
Some more photographs to enjoy are on the next page.
[Beginning] - [Next Page - More Pictures]