Moon, Planets and Aurora, Oh My!
by
John Huggins
April 7, 2000
Abstract
A rare planetary conjunction, a more rare Aurora (a red one), film in the camera, a good tripod and a kid to share it with. A tale of my lucky Astronomical night.
Text and Photos
by
John Huggins
The Night of April 6, 2000
How often do we see several planets and the Moon together? Not very. So I head out with my 35mm camera, tripod and five year old son to an athletic field of a local middle school in Northern Virginia. I have designs on a good photo of the April 6, 2000 meeting of the planets and some memories with the kid. The sun is setting and so are the planets. After some fumbling I get a few shots, but it was still too bright. The sky seemed cloudless, but the sunset was amazing. Then I look northeast and see more red through all the light pollution of Washington, D.C. I snapped this 15 second photo.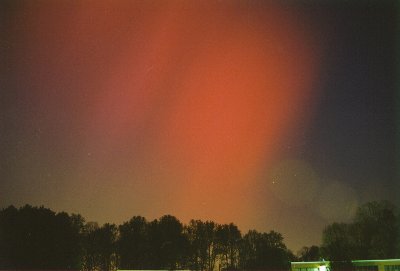 I remember a news flash earlier that day from SpaceWeather that one of NASA's spacecraft detected a sudden increase in particle density and speed of the solar wind. They said the effects would be passing Earth in about one hour and to keep your heads up for possible Aurora. I quickly realized I was seeing my first Aurora. What started out as a father son photographic safari for rare planet conjunctions turned into a spectacular night of memories.
I look southwest. Aha, I see some red light near Orion. I swing the camera around.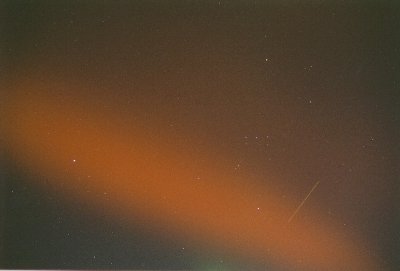 Yes that's an airplane on the right. They are everywhere around Washington, D.C. Click on the image to see a blowup. If you look hard at the blowup you will see myterious rings in the middle of the image. Here is a closer view.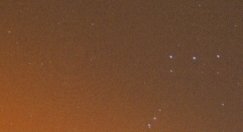 It seems our friendly Aurora is monochromatic and is revealing some kind of optical fact of my camera optics. Neat you say? Well check this out. Minutes later I noticed the red light near orion turned green and snapped this ten second or so image.
Yes, there is another airplane. Our rings are still there and are shown in this crude enhanced image.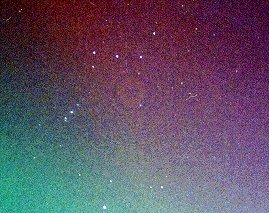 How about one of you MaxImDL folks work on the large file to enhance these rings.
If you look real hard you will see the green rings are spaced tighter than the red. This makes sense as green would have the smaller wavelength and seems just as monochromatic as the red light.
A bit of research reveals that most Aurora are green and result from Oxygen ionization while red comes from the ionization of Nitrogen. It is said the red Auroras are rare and only result when significant solar storms reach Earth. This storm must have been a whopper because half the sky (the northern half) was mostly red with several isolated bands of color visible south as shown in the above Orion shots.
My son says he saw purple. I think I did too, but am not sure what gas creates this.
Oh yeah the Planet-Moon conjunction - Here it is with our Aurora to the north: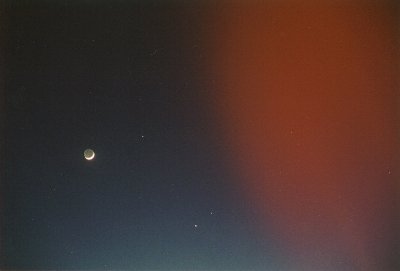 and the corresponding XEphem chart rotated a bit counter clockwise:
The Earthshine on the Moon was very visible with the eye.
So let's see here... we have:
A Rare Moon, Mars, Jupiter and Saturn conjunction,
A Rare Aurora in Northern Virginia with all the light pollution from D.C.,
A Very Rare Red Aurora in Northern Virginia,
A camera with film,
A tripod that works,
A clear night,
My kid to share all of this with.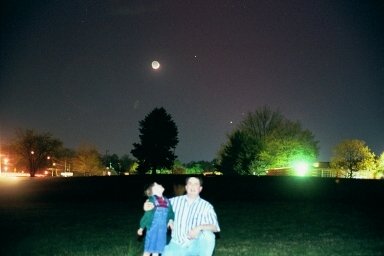 Moon, Planets, Aurora - April 6, 2000
Sounds like a home run to me.