Communications for your Astronomy Event
"Amateur Radio Service"
by
John Huggins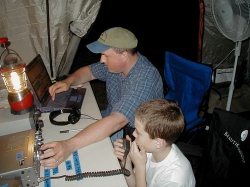 In the 1960s, 70s, 80s, and 90s, Ham Radio did a good job of supplying radio systems and operators to assist in the communication needs of organizations.

In the good old days, Ham Radio was useful for small events (under a mile radio distance), medium events (under 10 miles) and widespread events using repeaters. Hams also have experience using the HF bands for communication over hundreds, even thousand of miles.

With the advent of GMRS and especially FRS, the need for Ham Radio for short and medium range event communications has all, but vanished. Groups pretty much can go down to Wal-Mart, spend under $100 and have FRS radios and batteries to outfit five to ten operators within their own group.

However there are several compelling reasons to consider Ham Radio for your organization's communication needs:


Long Range Communication - Hams operate an extensive network of VHF and UHF FM repeaters which can and are called upon to provide communications 50 miles and frequently more.
Organized Communications - Most Hams practice "NET" techniques that teach efficient communication methods to the operators. If your event has a need for many radio communication stations, getting everyone to comunicate effectively can be a challange. Hams are use to this and are logical choices for help.
Field Communications - Each June hams participate in the ARRL Field Day event where the primary goals include quick setup of portable radio gear, public awareness of Amateur Radio, contacting other radio stations across the country, etc. It is this very event which trains ham radio operators the skills they need to help provide short, medium and long range communications when the need arises. The picture above is yours truly and son recording shortwave radio contacts with folks from other states using a simple totally portable field station run from batteries.
Well
Known
Ham Band
Name
Frequency
Notes
Max
Power
160
1.8400 MHz
Pretty useless for all except educational or experiemental purposes
1500.0 Watts
80
3.8000 MHz
Good range of hundreds of miles depending on time of day.
1500.0 Watts
40
7.1000 MHz
Good range of hundreds of miles depending on time of day.
1500.0 Watts
20
14.3000 MHz
Good range of hundreds of miles depending on time of day.
1500.0 Watts
0
21.3400 MHz
Good range of hundreds of miles depending on time of day.
1500.0 Watts
10
28.3000 MHz
Good range of hundreds of miles depending on time of day.
1500.0 Watts
6
50.1000 MHz
Reasonable for local use, but mostly an experiementor band
1500.0 Watts
2
144.0000 MHz
Exceptional for local use. Many repeaters operate throughout the country providing excellent range.
1500.0 Watts
70
440.0000 MHz
Exceptional for local use. Many repeaters operate throughout the country providing excellent range.
1500.0 Watts
Ham Radio Summed Up

If your event calls for communication beyond several miles, consulting with your local ham radio group for ideas, planning and possible volunteers is a sensible approach.

[Beginning] - [Next Page - Tone Squelch]